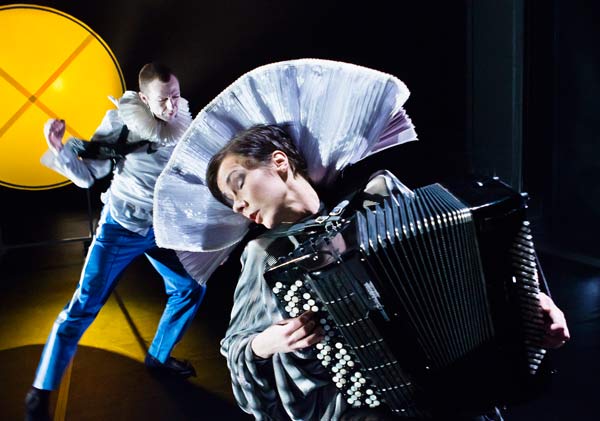 Accordion
Solo.

Premiere: 7th February 2011, Københavns Musikteater, Copenhagen.
In Accordion, Anders Christiansen works himself into the heart of the essence of dance. He starts at the beginning: dance as an expressive art that is intimately linked to music. A performance project created in close partnership with the charismatic Finnish accordionist, Minna Weurlander.
The accordion music, which is performed live, spans the accordion's entire musical vocabulary. From grandiose classical, through traditional folk, to new experimental and challenging accordion music composed for the show by Jakob Brandt-Pedersen.
Concept, choreography and dance: Anders Christiansen
Accordion: Minna Weurlander
Music composed for the piece and sound design: Jakob Brandt-Pedersen
Also music by: Olivier Messiaen, Wjatscheslaw Semjonow, Vesa Tuomi, Erik Uddunge (theme), Medard Ferrero (theme)
Set design, costume design, videotrailer: Lise Klitten
Lighting design: Michael Breiner
Film: Mikal Bing
Production management: Jesper Møller
Technicians: Peter Løkke, Jonas Corneliussen
Administration: Projektcentret i Dansens Hus
PR: Peter Lyth
Production:(stillleben)
Minimum stage measurements: 12 metres deep x 10 metres wide Duration:65 minutes
See video trailer from the show [!video-link?filid=419&linktekst=here!]
See promotion video here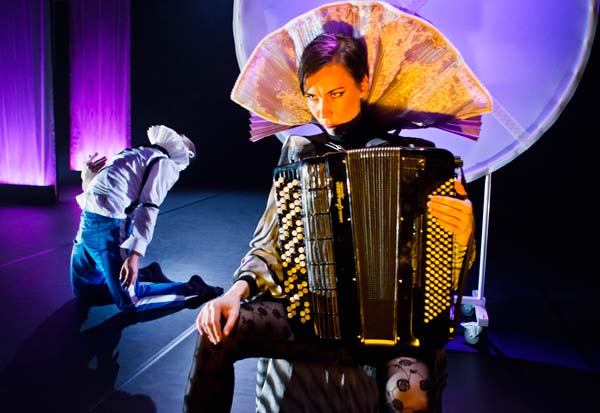 Press quotes:
A good dream about freedom
"There is a battle between life and death in Anders Christiansen's new work, Accordion, where the veteran soloist performs a graceful duet with the excellent Finnish accordion player, Minna Weurlander.

Both the dancer's and instrument's bodies breathe deeply in this image-rich dance performance. The white-faced Christiansen in his ruff, harks back to characters such as Pierrot, the mournful Petrusjka, the marionette Pinocchio, and echoes the renaissance and the clergy. Lise Klitten's black and white costumes and scenography are beautiful, and reflect the instrument's shape and colours with sophistication. Michael Breiner's fine lighting design casts shadows that look like prison bars on the dancer who is fighting for freedom. Characteristic of this minimalistic style is repetition, and Christiansen turns and folds his effective movement phrases, so the meaning shifts and challenges the well-known posturing of the historical art world. High-quality theatre with a good dialogue between music and dance" Vibeke Wern (Berlingske, 10th February 2011)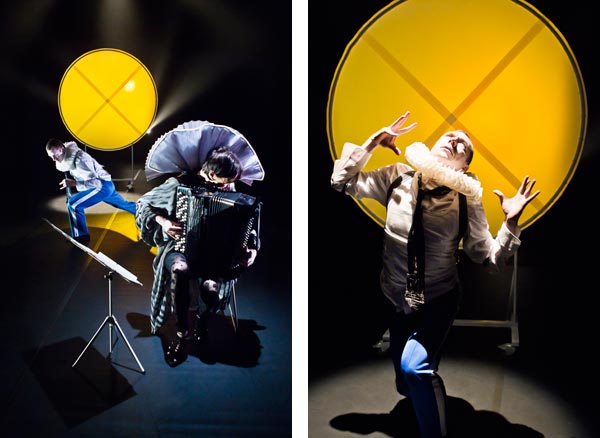 The interface of imperturbability
"The temporal nature of the body is also in focus in solo dancer, Anders Christiansen's Accordionat the Københavns Musikteater, though this time with minimalism as its physical expression. In a sequence of strokes, Anders Christiansen (born 1964), performs what could be defined as a requiem to his twenty year long career, depicted as a journey through different phases at the moment of death, with flash backs to a life in dance and music, and with the musical instrument and body in close symbiosis.
The performance's musical focal point is the Finnish accordion player, Minna Weurlander, who is a superb co-actor on stage. With her compact physical presence, she drags all manner of sounds out of her instrument, and supplies a strongly poetic accompanying universe that ranges from a hissing iron lung to a reverberating religious organ and from panic-stricken pumping arteries to a whistling, weightless glider. The accordion is played, banged and sampled live on stage with awesome finger equilibrium. Included is a passion for tango, waltz and folk dance as well as the admonishing monolithic new compositions of Jakob Brandt-Pedersen. Minna Weurlander is something of a high priestess of death as she sits with her long legs covered in a black and white or rose-patterned body stocking and with a long-necked ribbed ruff and strappy high heeled boots.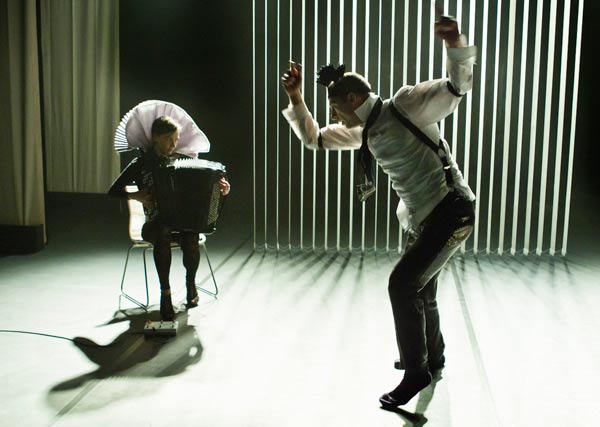 Lise Klitten's slatted designs are thoughtful and tasteful. There are reflections of the lines of the accordion's bellows in the shadows cast by the venetian blinds, 8 mm film, barbed wire, the string seats of chairs and the thread patterns on the costumes which look like prisons for the soul. Added to this are various uniform elements such as the ring master's sparkly black trousers, red ruffles at the sleeve, soldier's dress trousers with a yellow stripe and the white ruff collar that transforms the dancer into both priest and clown. Turning this performance into a divine dance comedy, served with a Buster Keaton, death mask-like expression in the stony face.

Anders Christiansen's expression is based on repetition of minimalistic movement phrases and eloquent finger gestures which vary at different levels and in direction and steps. Moments of melancholy and poetry can emerge suddenly with new and surprising intensity, for example in the accentuation of a moment of pain or a forced Petrushka-like spasm..." Maibrit Hjelmsbo (Weekendavisen, 11th February 2011)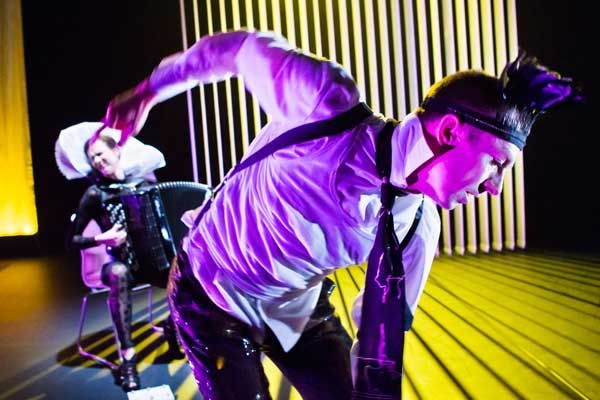 Venues:
Københavns Musikteater, Copenhagen, 7-19 February 2011.
ILT 11 festival, Entré Scenen, Aarhus, 17-18 May 2011.
Accordionwas produced with support from The Danish Arts Council, The State Arts Foundation, A.P. Møller og Hustru Chastine Mc-Kinney Møllers Fond til Almene Formaal, Knud Højgaards Fond, Augustinus Fonden, Dansk Skuespillerforbunds Produktionsstøtte-midler, KODA-DRAMATIK, Københavns Scenekunstudvalg.
Photographs: Christoffer Askman
In all pictures: Anders Christiansen and Minna Weurlander