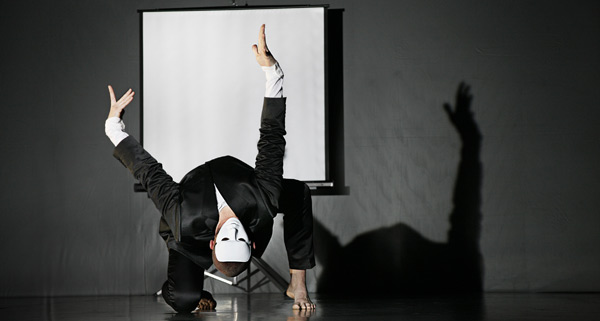 Bag om Ryggen
(Behind the Back) See VIDEO-TRAILER here

Solo.

Premiere: 24th April, 2009, K2, Copenhagen.


In April 2009, Anders Christiansen was invited by Kitt Johnson and X-act to participate in the anatomical mini festival, PanCreas, performing at K2 in Copenhagen and then at Archauz in Aarhus. Anders Christiansen was asked to create a short solo piece about an anatomical theme of own choice.


Concept, choreography and dance: Anders Christiansen
Music: Jakob Brandt-Pedersen
Costume design and set consultant: Lise Klitten
Lighting design: Michael Breiner
Producer / PR: Ulla Katrine Friis
Production: (stillleben)

Minimum stage measurements: 11 metres deep x 12 metres wide
Duration:23 minutes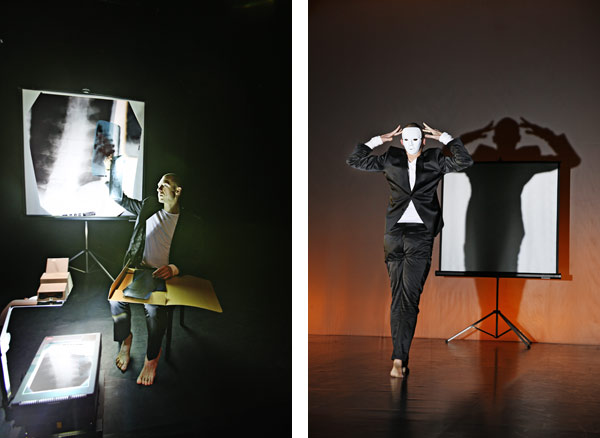 Press quotes:
Skeleton Dance and creaking bones
"The highlight of Friday's 'Triple-programme' was Anders Christiansen's solo work, Bag om Ryggen, based on X-ray images of the spine. Wearing a white mask on the back of his head, he elegantly transforms the back into the front of the body, and plays with forwards and backwards movements in time and space. Jakob Brandt-Pedersen's creaking bones soundtrack is effective in this stringently shaped and poetic work, where the jacket-clad Anders Christiansen, in Michael Brein's fine lighting design, ends the piece as a skeleton."
Vibeke Wern (Berlingske Tidende, 27th April 2009)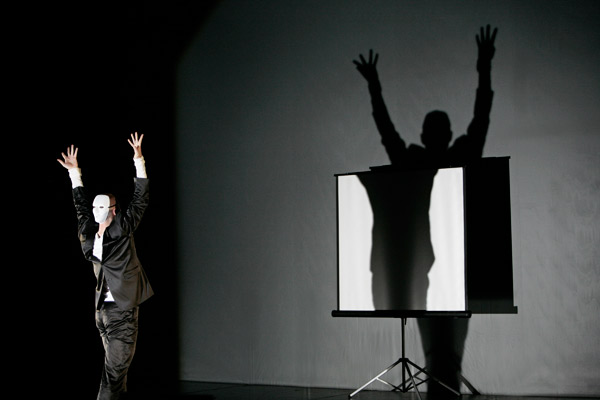 Turns around backwards and forwards
"He is simultaneously a disturbing and beautiful giant. He stretches his arms in the air again and again. Stands on tiptoe. Wanders back and forth across the stage and towards the audience. With a white masked face. And shadowy images of his back are projected on the screen behind him.

An image from the dancer, choreographer and loner, Anders Christiansen's frightening and fascinating work, Bag om Ryggen. Once again he has created oblique and penetrating scene images using very simple mediums: light, sound and movements repeated in space.

He shows black and white x-rays of vertebrae, and twists and turns with his softer than soft movements. He points a finger at his back, which in reality is not a particularly exposed part of the body. He puts a white mask on the back of his head and walks back and forth, towards the audience and away from them. So that finally, through repetition of the movement, they can no longer perceive that it is the back of him they are looking at.

But an alien creature emerges in the scene space. Anders Christiansen turns around backwards and forwards. His back is surprisingly expressive and has a face."
Mette Garfield (Terpsichore, 27th April 2009)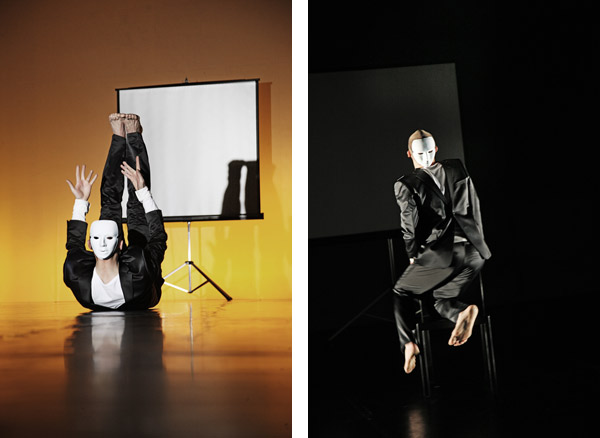 "Suddenly he is backwards, that is, his back has disappeared and he has two fronts. It is a classic performance trick, but nevertheless a fascinating masquerade. The mask gives the back a whole new life, and it becomes a new front. Standing on a chair with arms raised in a porte de bras, the mask and the back are triumphant over the front and the real face."
Torben Kastrup (Danstidningen, 2nd May 2009)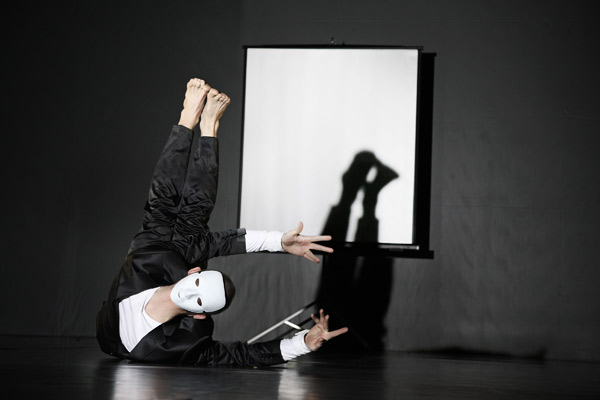 Venues:
Musikteatret i Esbjerg, Esbjerg, 23 May 2011.
Hillerød Ny Teater, Hillerød, 29 October 2010.
Dansescenen, Lille Carl, Copenhagen, 7-12 May 2010.
PanCreas / Archauz, Århus, 27 - 28 April 2009.
PanCreas / K2, Copenhagen, 24 - 25 April 2009.


Bag om Ryggenwas produced with support from The Danish Arts Council.
Photographs: Per Morten Abrahamsen
In all pictures: Anders Christiansen