H2O
Solo.

Premiere: 27th Marts 2009, Dansescenen, Copenhagen.


Experiments with water. A dance solo about water's dramatic duality – on the one hand life-giving, on the other deadly - sacred yet everyday.


Concept, choreography and dance: Anders Christiansen
Music composed for the piece and sound design: Jakob Brandt-Pedersen
Recorded music: The Cold Song - Klaus Nomi (Henry Purcell)
Set and costume design: Lise Klitten
Lighting design: Michael Breiner
Producer / PR: Ulla Katrine Friis
Production: (stillleben)

Minimum stage measurements: 11 metres deep x 14 metres wide
Duration:60 minutter
See video trailer from the performance [!video-link?filid=332&linktekst=here!] See promotion video here
Press quotes:
When you submerse a body in water
"You should not feel you are safe, when Anders Christiansen plays at being the bone-dry water baby. Physics experiments turn to deadly dance.

You would not believe it, but the performer Anders Christiansen, and the late reality TV star, Jade Goody have a lot in common. Goody, who suffered from cancer, allowed the TV cameras to follow her all the way into the terminal phase. But what does that have to do with the man here who walks round the stage laboratory in his lab coat and pours water on the floor, fills buckets and shakes water bottles? Maybe that he makes sure the whole thing is filmed at the same time, documentary-style. But there is not much of a dramatic death scene about that.

In actual fact, it is what is hidden behind H2O. All the experiments with water are a preparation for death. Hence, there is a zinc tub waiting like an open coffin. The ultimate physics experiment as a finale: what happens when you submerse a body in water?
...Fortunately, the man of water is sometimes seized by dance rapture. With arms outstretched to the side and up towards the sky, he stands and signals as if sending Morse code to distant horizons - a peculiar fusion of traffic cop and alchemical magician. Or suddenly he gives in to an impulse and dances a little melancholy solo with intricate movements and melodramatic gestures. After all, this is certainly not dry of performance all the way through. On the contrary, the drama lies just below the surface. It can be sensed from the outset, in the devotional prelude, where the man stands amongst luminous buckets in the dark, engulfed in an achingly beautiful Purcell aria. And in the finale when the tank must be filled.

When a body is submerged in water ... and stays down there, there can only be one end. But as in the case of Jade Goody, we are not there at the very end. There is just a black curtain. And applause for Anders Christiansen who has shown the great in the small - the very, very small."
Monna Dithmer (Politiken 31 Marts 2009)
"There are life-giving drops of fluid from drip bags. Water sloshes around in aquariums and tubs, and is sprayed up in the air in droplet-filled mist clouds. An ice block is hacked into pieces. Water is melted in a pan, boils, and a few drops dance as they evaporate on the hotplate. Anders Christiansen even forces music out of some water-filled wine glasses before he submerses himself in a water-filled tank, a submersion reminiscent of the first life in a mother's womb. A comfortable, but possibly life-threatening situation for the newborn, when the umbilical cord is cut. Add to this, the performance's musical encirclement, Henry Purcell's gaspingly melancholy, The Cold Song, which leaves eyes brimming with tears. Anders Christiansen's explorations have a peculiar poetry. Minimal means, insistently and silently, silently, silent."
Majbrit Hjelmsbo (Weekendavisen, 3rd April 2009)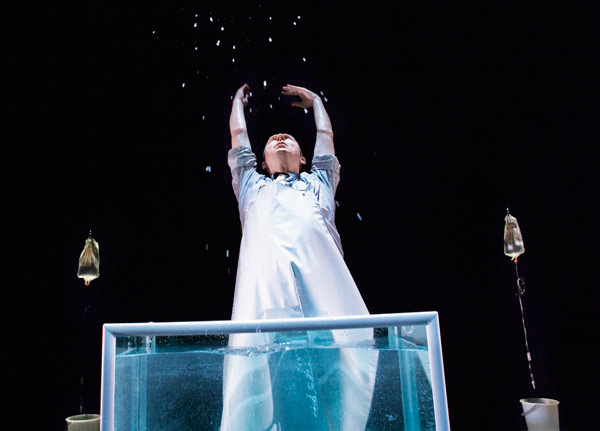 Fine water art at Dansescenen
"Water in bottles, jars, tubs and hospital drips adorn the stunning scene installation in Anders Christiansen's new solo, H2O.

Experiments with water, exploring the many functions of the wet element, its symbolism and both life-giving and lethal properties. Water's different states are in focus when droplets become steam on a hotplate, or blocks of ice are hacked into pieces. And this image-rich dance performance alternates between the secular and the sacred, as Anders Christiansen washes the floor with his jacket one minute and in the next moment he performs a ritual gestural dance. With fine movement quality, he swings and circles his arms to Purcell's, The Cold Song, and plays beautiful two part music on the rim of crystal glasses with circling wet fingers. To the accompaniment of Jakob Brandt-Pedersen's sensuous composition, full of drips and waves, he is everything from merman to rolling breaking waves and finally he submerses his body under the water in a coffin-like tank."
Vibeke Wern (Berlingske, 29th Marts 2009)
Venues:
Dansescenen, Copenhagen, 27 Marts - 9 April 2009.


H2Owas produced with support from The Danish Arts Council, Københavns Scenekunstudvalg, Augustinus Fonden, Wilhelm Hansen Fonden, Toyota-Fonden, BG-fonden, L. Zeuthens Mindelegat, KODA-dramatik og Egekilde.
Photographs: Christoffer Askman
In all pictures: Anders Christiansen