Respekt (Respect)
5 women with sticks, chairs and gaffa tape.

Premiere: 7th April 2006, Dansescenen, Copenhagen.


A woman in a large black woollen coat and bare legs carrying an accordion sits down on a chair in the middle of the empty stage and plays a grandiose classical organ piece. She gets up and 4 more women dressed in black enter. With their faces turned away from the audience, they all let their coats fall and expose their backs. Equipped with a number of simple props - 12 black chairs, perspex sticks, a microphone, and gaffa tape - the 5 women seduce the audience into a strange, drawn-out cabaret of displayed bodies and live accordion music.


Concept and direction: Anders Christiansen
Choreography: Anders Christiansen and the dancers
Dancers: Anne-Claire Theissen, Louise Hyun Dahl, Mette Molich, Amia Miang
Accordion: Minna Weurlander
Music composed for the piece: Jakob Brandt-Pedersen - for computer and accordion
Also music by: César Franck, Nico
Set design: Anders Christiansen and Lise Klitten
Costume design: Lise Klitten
Lighting design: Michael Breiner
Producer / PR: Aline Storm
Production: (stillleben)

Duration:80 minutes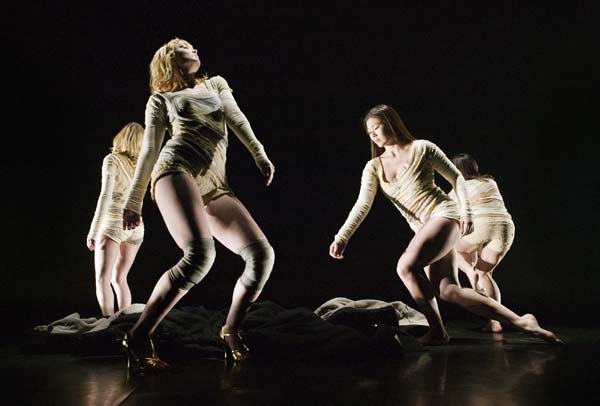 Press quotes:
The graceful excess of the flesh.
"For the dancer-choreographer Anders Christiansen the stage is a cultic place: A space of condensed significance, where each action creates meaning. Nevertheless he tries to keep as far away as possible from myths and rituals. He tries to avoid story-telling. They would weigh down the expression, he seems to think.

Instead his method is that of collage: Many run-ups, many ends - also of the loose kind. This becomes especially clear, when Christiansen is not himself on stage, but acts instead as an inspirator and concept-maker, as here in Respekt, where he stages five very different women.

The fifth is the Finnish accordion player Minna Weurlander. Wrapped up in mummy-like, frayed clothes, with bare legs like the four other women, she makes one think of the graceful excess of the flesh with her instrument. The muscle behind the skin knows nothing of what it produces. Whether it makes steel rollers, dance, or a winding melody, it works patiently together with the muscles around it. It is the mere pleasure of this sight we are to experience. Slow down, Christiansen seems to say, and turn the aesthetic sensuality up, up high.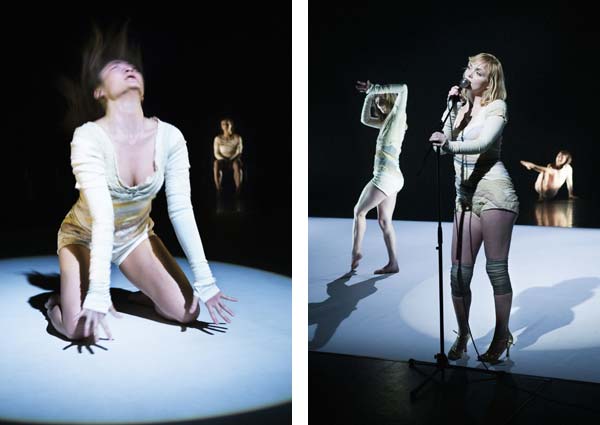 ... Hard-working Louise Hyun Dahl finally steps out of her many shadow roles and shows a totally convincing solo. On her knees, in the middle of a bright spot, she beats her head into the floor, incorporating all of her pain. She makes one think of the death-body of butoh which lives with an awareness of the end, painfully and yet with dignity. Hyun Dahl is a shining example of the corporeal marriage between idea and body that a dancer can reach through years of work. Respect for that."
Janus Kodal (Politiken, 15th April 2006)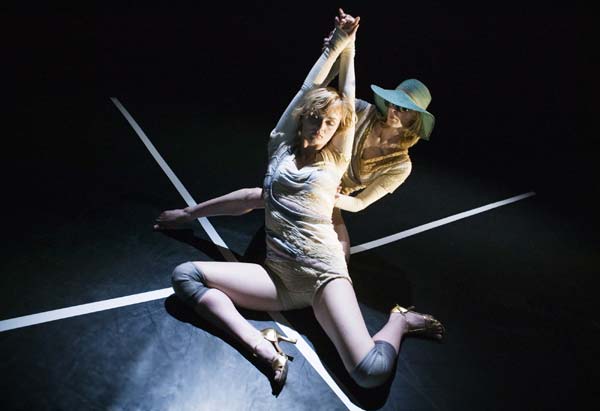 "César Franck's music roars with virtuosity from Minna Weurlander's accordion as a prelude to Anders Christiansen's new dance piece Respekt at Dansescenen. And great respect for the lovely Finnish musician who has also performed in earlier works by Anders Christiansen.

...In Respekt, as is characteristic of Anders Christiansen, we experience the human being - now in the shape of the five women - as limited, at times almost amputated and lifeless individuals. Physically they enter a characteristic dialogue with supporting chairs and sticks.

... Fascinating and charismatic is Louise Hyun Dahl in her animal, butoh-inspired and almost orgastic solo, where she beats her head noisily into the floor and swings her head and hair wildly. And so is Anne-Claire Theissen in her unrelenting, strong-willed solo, where her space is restricted to a balancing act on a long strip of tape on the floor."
Vibeke Wern (Berlingske Tidende, 13th April 2006)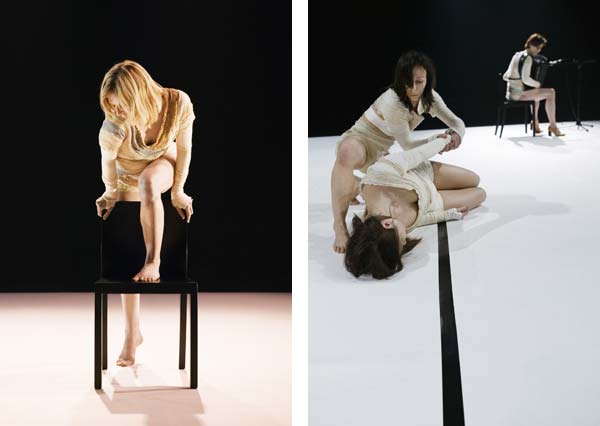 Venues:
Dansescenen, Copenhagen, 7-22 April 2006.
Respekt was produced with support from The Danish Arts Council, Wilhelm Hansen Fonden, Augustinus Fonden, Københavns Kulturfond, NordScen.






Photographs: Christoffer Askman
1 Mette Molich, Amia Miang, Louise Hyun Dahl, Minna Weurlander, Anne-Claire Theissen
2 Mette Molich, Amia Miang, Louise Hyun Dahl, Anne-Claire Theissen
3 Louise Hyun Dahl
4 Mette Molich, Amia Miang, Louise Hyun Dahl
5 Amia Miang, Mette Molich
6 Mette Molich
7 Anne-Claire Theissen, Louise Hyun Dahl, Minna Weurlander